上記の広告は1ヶ月以上更新のないブログに表示されています。
新しい記事を書く事で広告が消せます。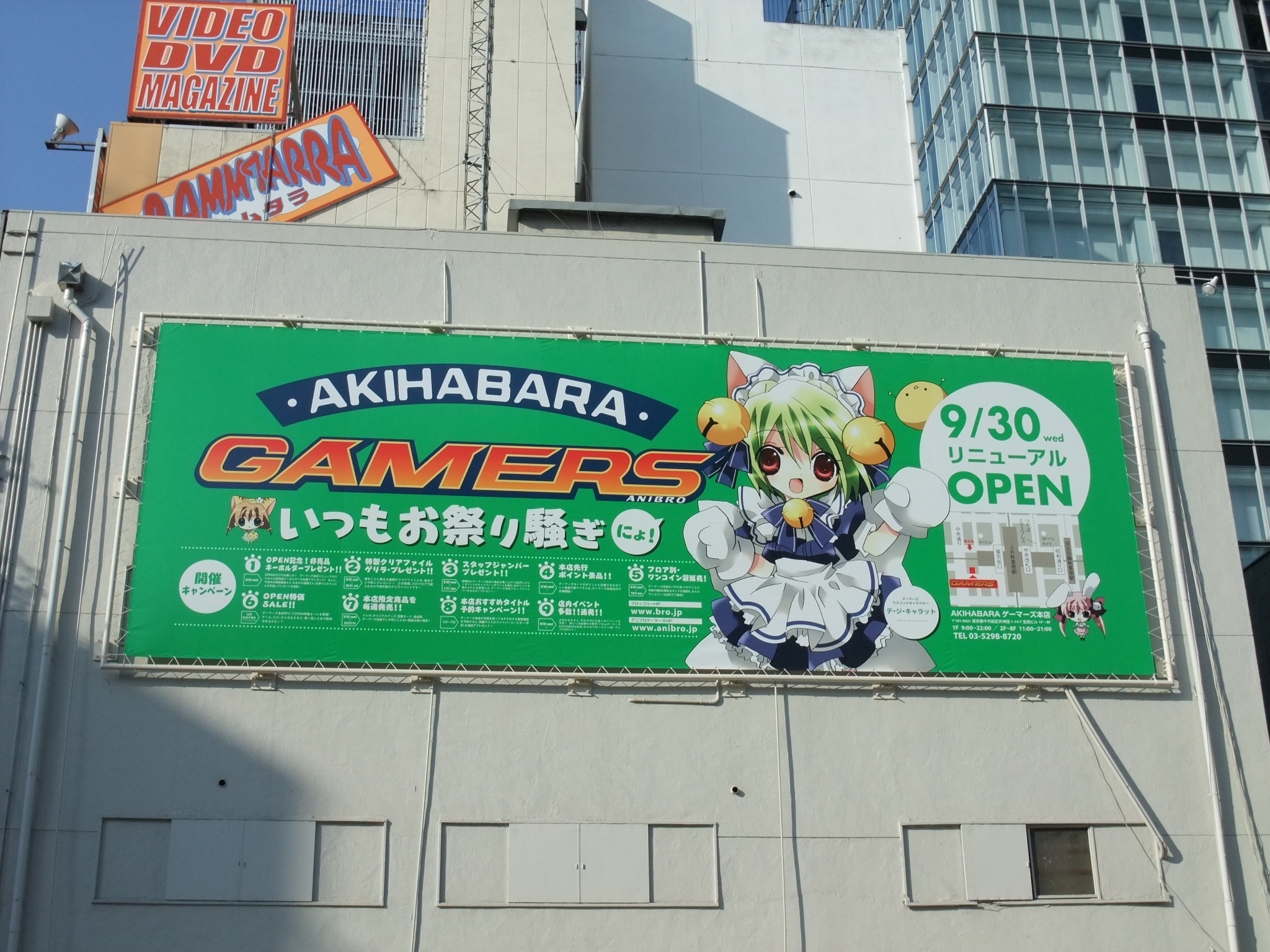 This signboard tells us
Gamers
Akihabara branch renewal open on 30th September.
Looking forward to it, I went to the store on 12th October.
But I couldn't find anything new to me.
Of course, I'm not familiar with the store since I rarely visited there.
Still the store looked all the same to me.
Where is something new?
To make matters worse, the store reduced visual novels counter.
The store used to sell visual novels all over the 1st basement.
But I found visual novels on sale in the corner of 5th floor yesterday.
In general, game shops hide visual novels counter away from the people under 18 or they use one floor only for selling visual novels and prohibit the people under 18 from entering.
But Akihabara Gamers sell them at the place where all the customers can see.
What happened to Akihabara Gamers?
Akihabara Gamers had had two buildings.
One is the main building called "Anime building"
Gamers has been there since April 2003.
Another is "Game building" whose main merchandise is games.
Gamers opened "Game building" next to "Anime building" in summer 2008.
Akihabara Gamers used to sell visual novels all over the 1st basement of "Game building"
But "Game building" has been closed since last month.
I thought "Game building" would return on 30th September, but I saw "Game building" under construction yesterday.
According to other blogs, Akihabara Gamers seemed to close "Game building"
In other words, the main purpose of this renewal was to close "Game building" and integrate it into "Anime building"
Soon, another shop will start to run in the building which had been known as "Game building"
The words "renewal open" sounds like something good, but this is not "renewal open" but "reduction of the store"
The store is not large enough now, Akihabara Gamers cut off visual novels.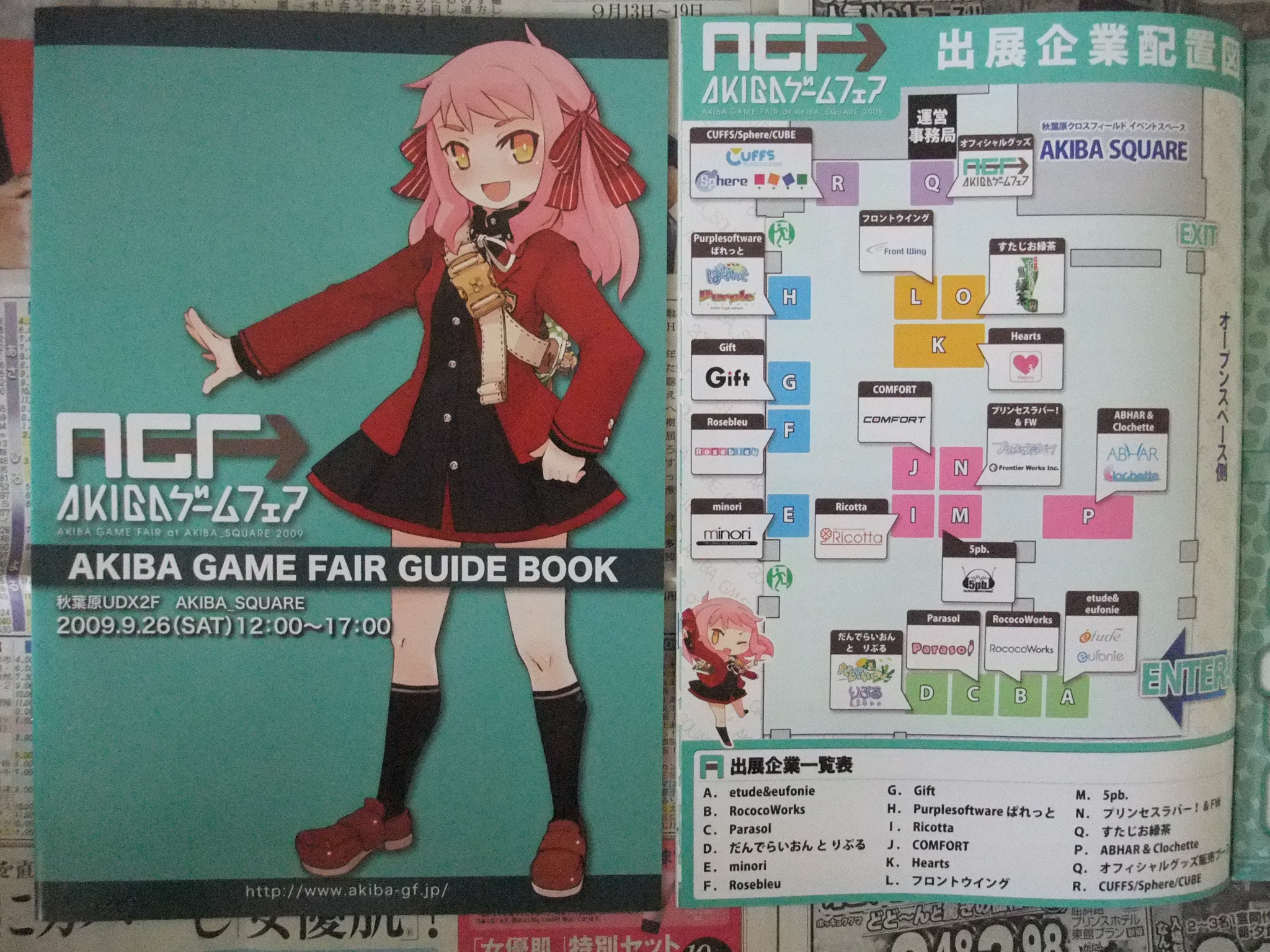 An event was held by some visual novel companies in
Akihabara
on 26th September 2009.
They promoted their new games and sold their merchandise.
And they gave the attendance some goods for free.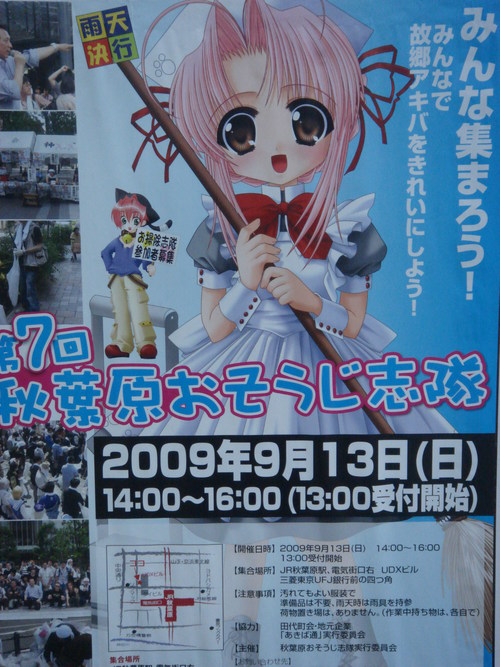 Come here, everyone!
Let's clean our hometown Akihabara.
Here comes a project to clean our holy place
Akihabara
.
The people who love Akihabara, they gather there to clean on 13th September.
I wonder how many people will come.
Of course, I love Akihabara so much.
But I have to work on that day.
However, I think that Akihabara is not dirty usually.
Even though Akihabara is always congested with so many people, the street keeps itself clean.
You mustn't smoke on the street. You will pay a fine if you do.
So, there's no cigarette butt there.
Still, this project is very nice.
This can't be carried out without the people who love Akihabara.
A new game shop "TRADER" was open today at Akihabara.
I arrived there 40 minutes earlier than its open.
I thought many people lined up and were waiting for its open, but no one was there.
30 minutes before its open, people came one after another, resulting in that there were about 30 persons in front of the shop when it was open.
I enjoyed seeing everywhere on the shop and bought five games.
I wanted to take some photos, but couldn't do that since there were many staffs and customers in the shop. And it was a rainy day, I had difficulty in taking a photo with my bag and umbrella in my hands.
7th July is
Tanabata
in Japan.
People write their wishes on small pieces of paper and hang them on bamboo.
Those small pieces of paper were called Tanzaku.
A shop at Akihabara put a bamboo in the shop, and there were many Tanzaku on it.
Any customer can write his or her wish on Tanzaku and hang it on the bamboo.
Of course, I did that.
What did I write? It's a secret.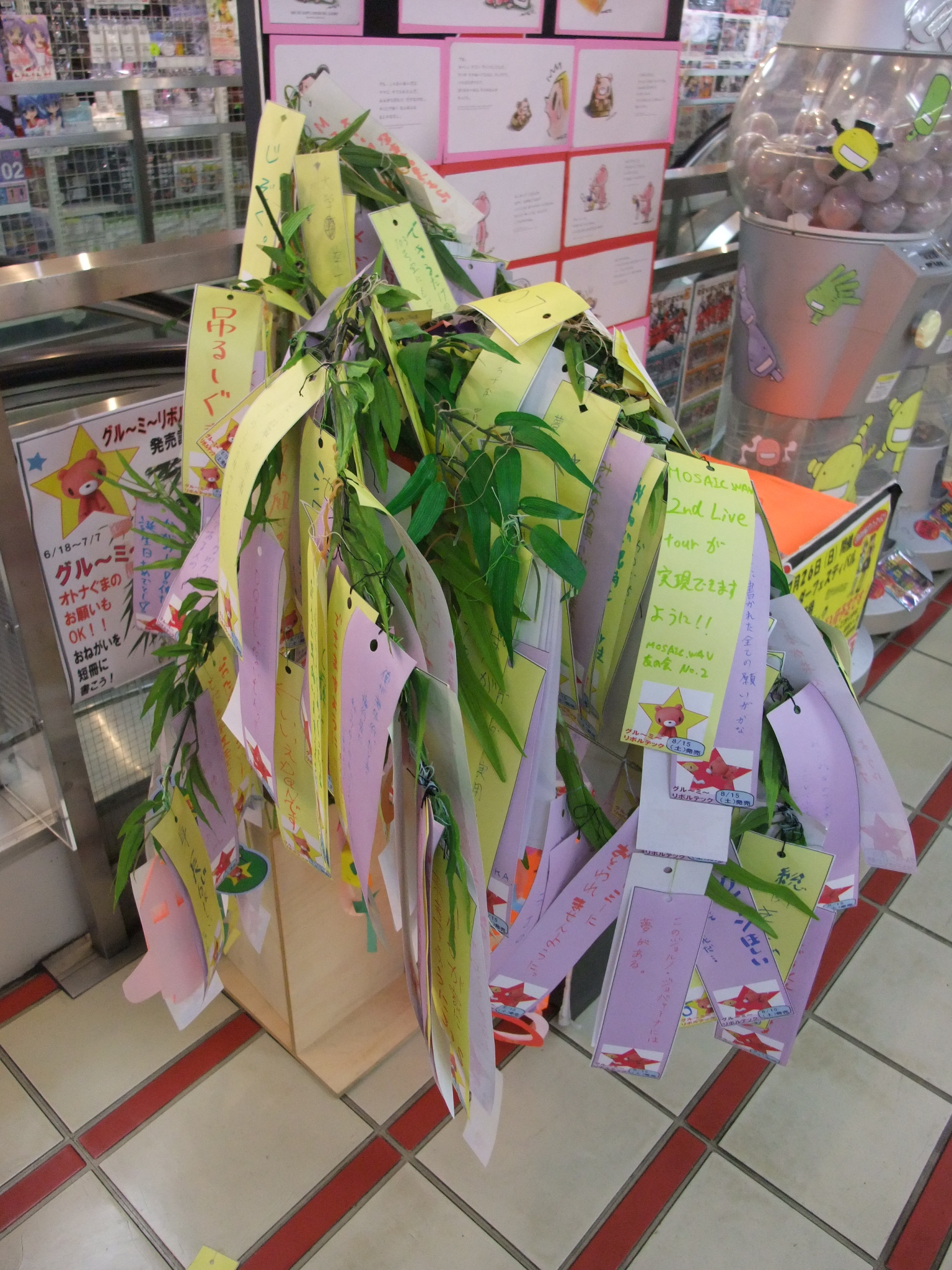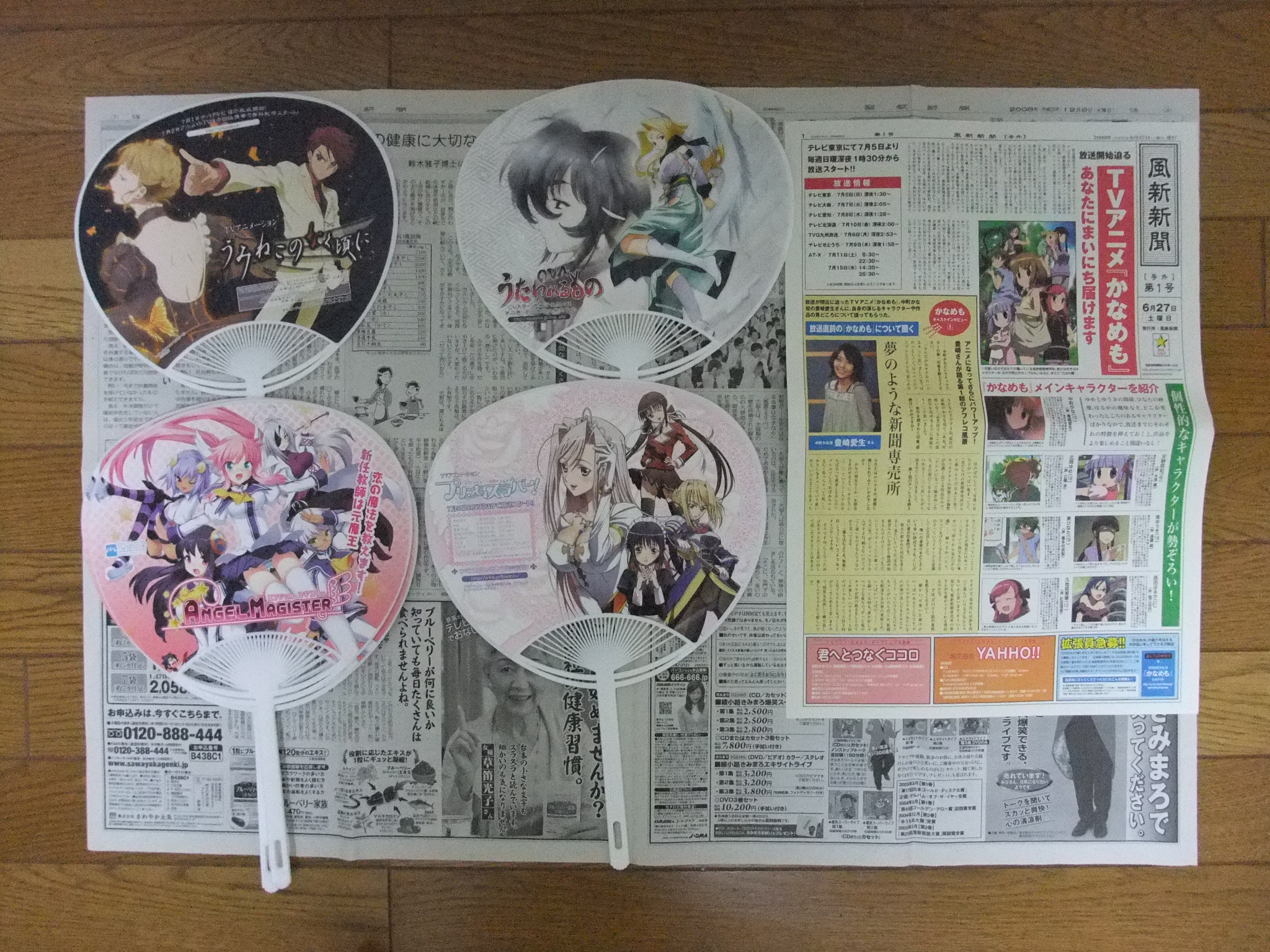 Animate was handing out fans for free.
Of course, one fan per one person.
I lined up three times and got all of them.
And I got
Angel Magister
fan at another game shop.
It was burning hot that day.
Many people were walking around Akihabara with a fan in their hands.
A game shop Sofmap had been in this building until 2007.
Visualnovels were on sale at 6F(or maybe 7F).
I used to climb the stairs, having no patience to wait for the elevator.
And I used to go to Akihabara after I finish my work.
The long long stairs always made me tired.
I can still remember which game is where on that floor.
Sofmap has gone and that building has been empty for two years.
Finally, a new shop has come.
TRADER has had three shops at Akihabara.
But yesterday, I found one of them closed.
Seems that they closed one of them after they decided open their new shop at that building.
This building is really big, and TRADER serves reasonable price.
Many
Otaku
will gather at that new shop everyday.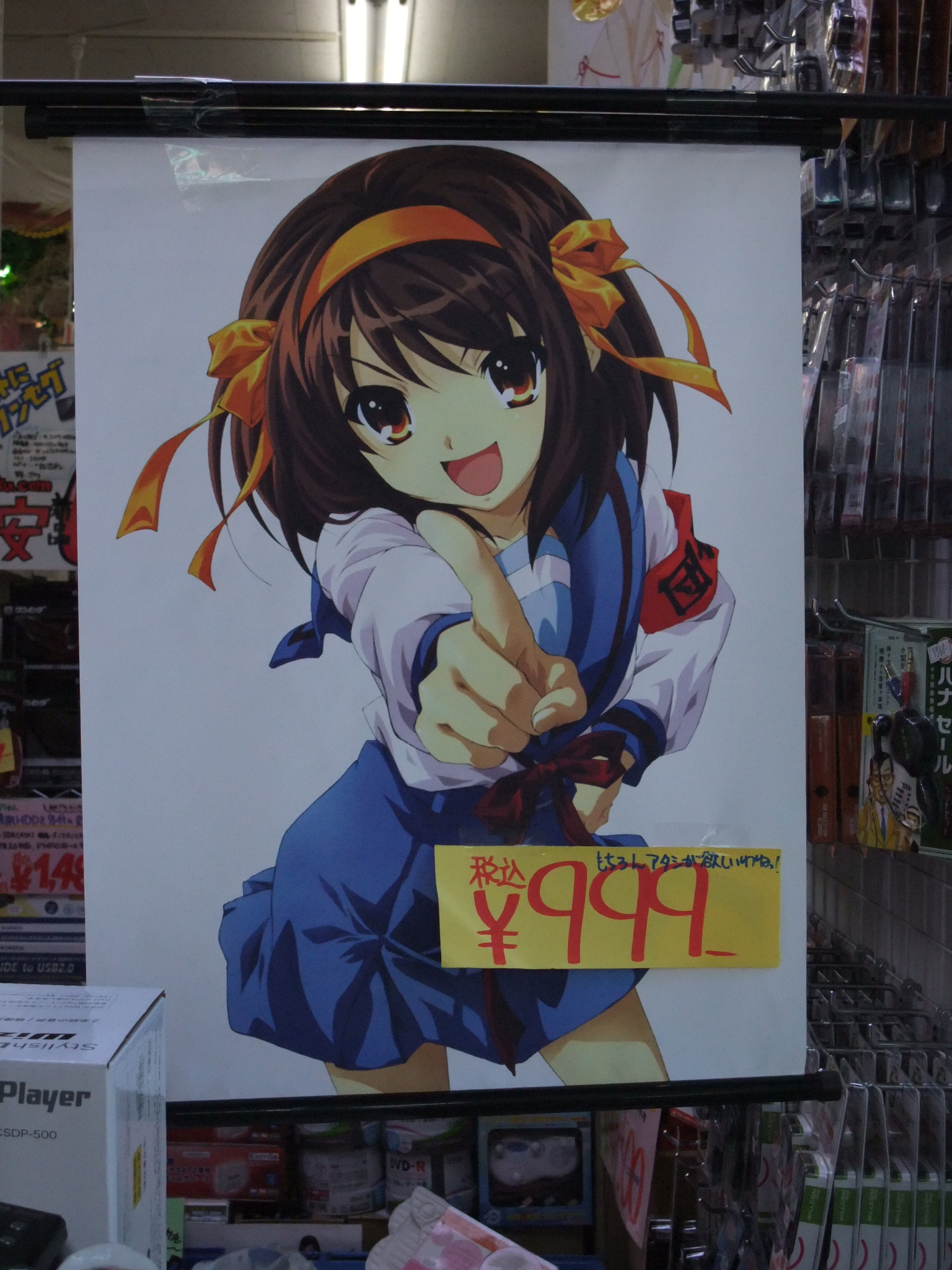 This is a tapestry on sale at a shop in Akihabara.
"
Of course, you want me.
" says Haruhi.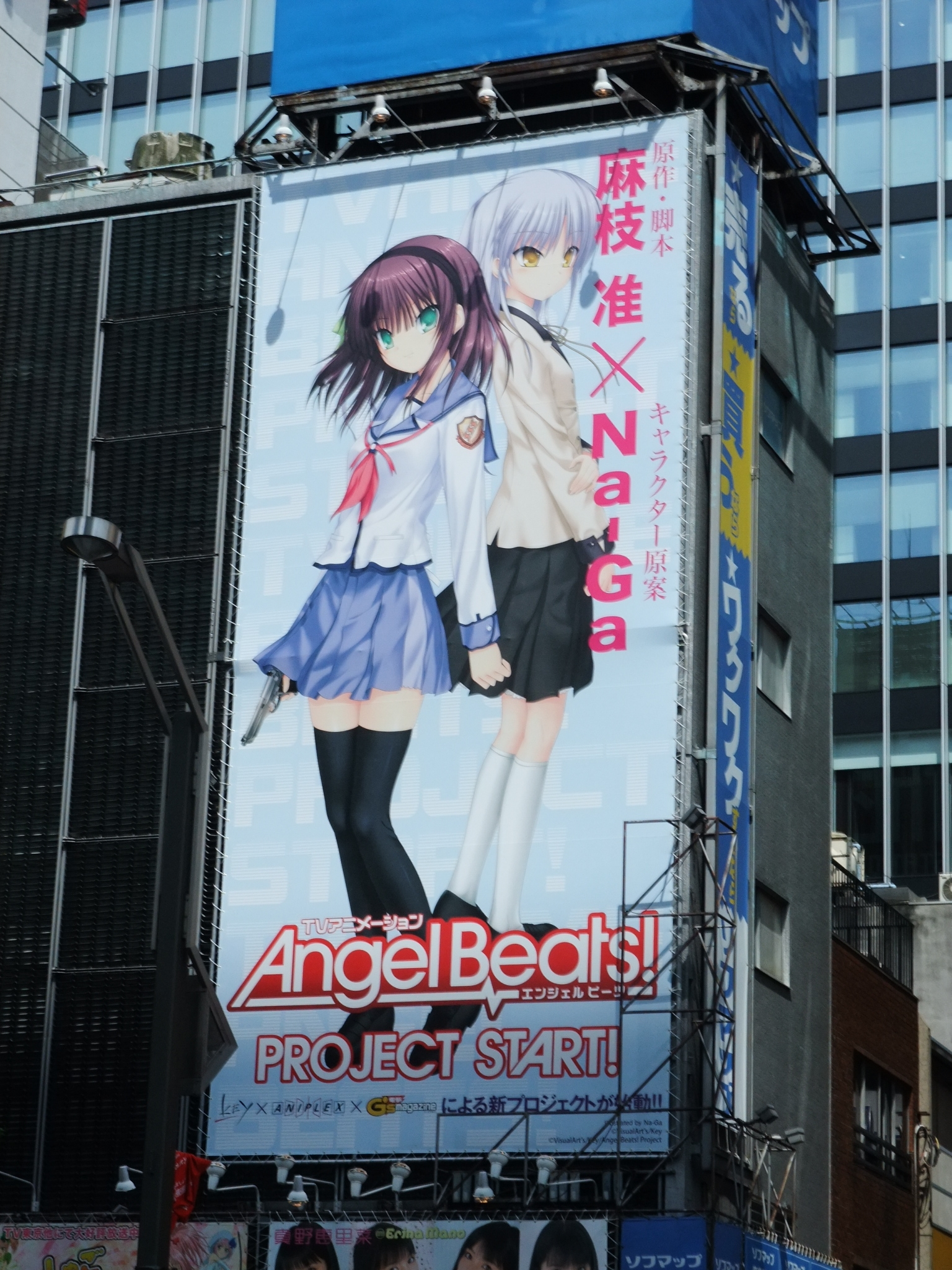 I had a little tour at Akihabara today.
I saw "
Angel Beats !
" everywhere.
I saw Haruhi's body pillow and Konata's body pillow for sale at Akihabara.
| HOME |