上記の広告は1ヶ月以上更新のないブログに表示されています。
新しい記事を書く事で広告が消せます。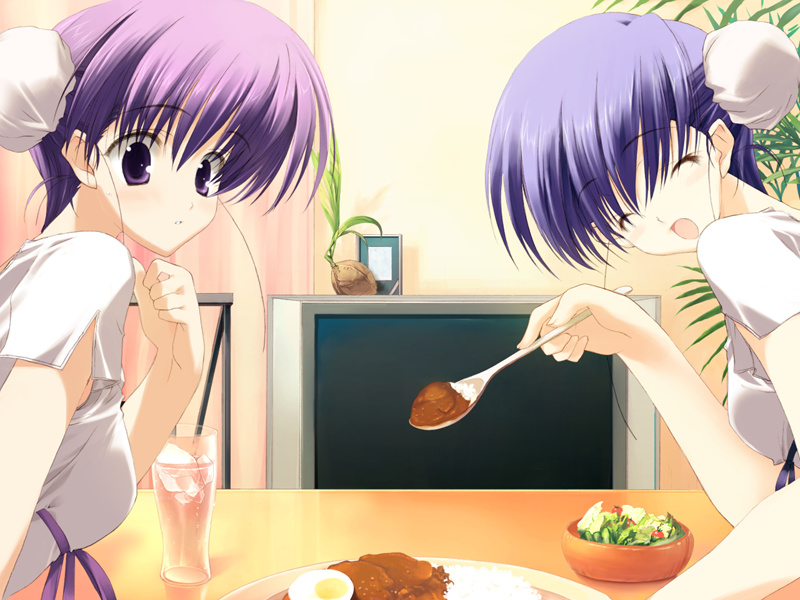 The story touched my heart.
In "
Konomi
" and "
Tamaki
" route, only ordinary days come one after another until we come near to the ending. It looked weird that the characters got into a serious situation all of a sudden at the last scene.
But in "Himeyuri sisters" route, we can get to know about them little by little as the scenario goes by.
And They and the protagonist get close to each other little by little.
So, it looked natural that they got into a serious situation at the last scene.
I had thought that the scenario writer should have written "
Sango
" route and "
Ruri
" route separately.
But now I understand why the scenario writer put them together into one route.
Himeyuri sisters love each other so much.
They won't ever be separated. No one can split them up.
And the love between them is an important factor in their route.
The protagonist said he loved them as girls at the last scene.
Sango usually says she loves him.
Ruri hated him at the beginning, but it seems she came to love him.
But I don't know whether Himeyuri sisters love him as a person or as a boyfriend.
I think that Sango loves Ruri the best in the world and Ruri loves Sango the best in the world.
Himeyuri sisters and he said that they will stay together forever.
They looked like good families or a brother and sisters rather than a couple.
But They looked happy.
I'm so glad to read this warm love story.
---
A maid robot "Ilfa" appears in that story.
She has two younger sisters.
"
Milfa
" is in her temporary body in that story.
"
Silfa
" has no time to take the stage in that story, "Ilfa" talks about her, that's all.
Those two girls are main heroines of "
ToHeart2 AnotherDays
"
But there's no route for Ilfa in "ToHeart2" or "ToHeart2 AnotherDays"