上記の広告は1ヶ月以上更新のないブログに表示されています。
新しい記事を書く事で広告が消せます。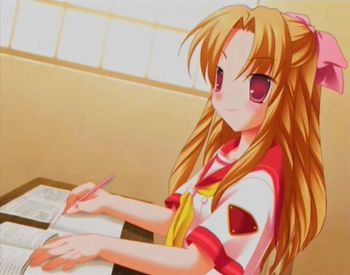 Mutsuko
is a sub character in the PC game.
She is a main heroine in the PS2 adaptation.
For that reason, her route is too short, and there're only three CGs of hers.
Top of that, her route diverges from
Katsumi
's route.
At first, the protagonist used to go after Katsumi, but she never appeared after I chose a choice for Mutsuko in the middle of Katsumi's route.
It looked so weird.
Then, Mutsuko's route started. But I reached the ending scene soon.
Why did they fall in love?
I can't understand that clearly.